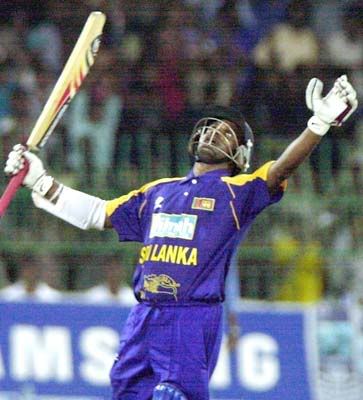 Thought I'd turned on the TV found a portal in time to a painful past. The past, in which existed, a heartless, cold, bloodthirsty murderer. A murderer, at whose sight, bowlers requested to change into dark-brown coloured pants. Bowlers, some of whom never could set foot in cricket again after meeting this bloodthirsty murderer.
Memories of yesteryears came flooding by when the same murderer smelt blood all over again. It took me back to a time when the murderer had me pulling my hair out in frustration. And had the Indian bowlers praying for their mommies and made them carry a set of Pampers for every Indo-Lanka game. God! We hated the sight of him as kids!
Somehow, this time, it was much easier to appreciate the skill of the man. And to see the beauty with which he weilded his weapon around and mechanically butchered his enemy. Sanath Jayasuriya... take a bow. That was awesome! You rode on your luck, alright. But you made plenty of it on your own too.
Unfortunately for you, it's not the same set of Indian bowlers anymore whom you whooped left, right and center in the late 90s.
You could have saved this best for the finals though. Now Asia is ours for the taking!
What an un-****ing-believable win!