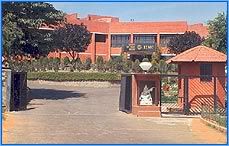 Standing outside the college stores, hungrily chomping away on a pack of Kurkure after an orientation lecture, I scanned the scenery around me. My eyes went upto the main entrance of the college. The sign said, 'Indian Institute of Mass Communication'. And a strange sense of calmness and satisfaction came over me. The kind that I had never, ever experienced before. The wait had been long and painful. But it's awesome to be here. Beyond awesome. Pardon me if I'm overdoing it. But my euphoria is hard to contain at the moment.
The first week at IIMC saw orientation lectures to give students a little background on what we are up against for the next one year. We've had several sessions over socio-economic issues, our polity, media in general, reservations etc. My favourite ones were taken by GVG Krishnamoorthy (former EC), Saikat Dutta (sub-editor, IE, now moving to Outlook) and Col. Dhavan (who had some awesome stories about the war in 71).
And there were some sessions during which I fell asleep too. There have been instances in school and college when I felt REALLY tired and sleepy in class. But never have I actually fallen asleep in class before. Oh well... there's always a first. All you need is a lecure on history and forms of Drama.
Or, for that matter, our HOD's talks, where every second sentence ends with
"...and all that...".
Sample this:
We have a great infrastructure... and all that.

Col. Dhavan will talk about Media and Defence... and all that.

We also have some cultural activities... and all that.

Now please go and have your lunch... and all that.
We intend to keep an "and all that" count, one of these days.
I made half a dozen friends. Half a dozen enemies. Already earned a nickname! Have already taken a panga with the cyber media faculty. He's prolly gonna hate me for the rest of the year. Maybe I oughtta buy him a Krishi Vikaas Patra or something. That should get him on my side.
I'd met a girl from Orissa at the Symbiosis interview. She was the only one in my group of 5 who got admitted to Symbi. She, after having paid her fees of 80,000 for the year at Symbi, quit the place. She's my classmate now. Not bad, huh?
My batch is quite a mix. We've got Oriyas, Mallus, Tams, plenty of Northies. And a truckload lots of Biharis. The Hindi Journo department has 25 Biharis out of a class of 40. There's a huge contingent from UP/Bihar.
Overall, an AWESOME week. This is gonna be one heckuvva year. Don't wanna miss a thing.
SUCK THE MARROW OUT OF LIFE, PEOPLE!!!